All Riley Kim wants to do is meet President Barack Obama. Riley has a big wish, but he's also dealing with a lot. He has stage four cancer. Riley has turned to social media to spread the word about his wish, hoping President Obama hears about his plea and makes his dream come true. We hope to help make your dream a wish come true as we will help everyone know your cause. we are not picking sides, cause we are here for everyone. we do fine special cases that need your help. We are letting all our data base know about this. Something need know donation to care for kids wishes. Please help us make this a dream come true for Riley. Oktoberfest for this year 2015. Cant' stop you till you get enough family fun All year round. Bring it on! You thought Summer Fest was Hot ..We have over 444,000 hits on our biggest shows a year and over 70,000 hits on our website.
We can't wait for The Biggest show ever 5 weekends German beer Fest original Oct Fest like no other. To get approved to take part in the show. Send in your contract with payment food vendors is $775 for the two days on Summer Fest and three Days on Oct Fest. Arts and craft vendors is $475 and Commercial vendors $650.If you want to be in front of show or in corner $550. SAVE THE DATES.

TO BUY Tickets Go to PayPal. general admission $25. There will be as always many special guest performers. We let you know soon. Your donation will help us build housing on the our ranches for the the homelese with work programs, health, life skills. Help us make awareness to the homeless issues and make a real difference. FOR ANY DONATION OR PAYMENTS GO TO THE FX3 NON PROFITSEND TO FOLLOWING PayPal.com ( Festivalpaypal@aol.com ) )

Bands to play and SPECIAL GUEST 7TH ANN SUMMER FEST 2016
To buy ticket go to Stubhub.com

Cody DiGerolamo, Cody Joe Hodges ARBOREA, Blind Stitch, Cameron Nino, OnTheWaters OfGangaJala, The American Kings Blues Band The Red Hot TRIBUTE Peppers , "Unsound Foundation,"SunsOfJimi, Fresh Establishment. Latter day Bard; M Thundder
Blind Stitch AND SPECIAL GUEST THAT WANT HELP BRING AWARENESS TO THE HOMELESS.

The Heat Is On At !

The 7th Ann Summer Fest 2015, so save the date now.

Come out to join the walk for the homeless or just meet with them to see what you can to do to make a difference this summer.
We are getting ready for summer 2016.

The word is out and things just got crazy. Special guest will show this 2015, so don't miss out. For all the You Tube fans go here to see our last 6 years shows:
Summer Fest on Venice Beach

We plan to bringing it, the best summer festivals to the public to enjoy this summer. So come check us out, relax and enjoy yourself at our party at the beach before summer officially ends. Over 50,000 people are coming out to join us for a day and night of live bands, great food, and music from all around the world. So come enjoy the magic and fun of the summer with the vendors and more. This event will take place annually with kids sectioned in over 200 booths.

See the Biggest Summer event that hits this summer major
special guest.

IT"S SO BIG WE START NOW TO MAKE IT HOT!!! If you still want to book your band or perform. For vendor info email us. Over 20, 000 people will be at show this summer and there about 50,000 people that run through the vending site. We have over 444,000 hits on our biggest shows a year and over 70,000 hits on our website.

7th Annual Summer Fest 2016 :
This event ends the summer with FOOD from all over the world a FUN Kids Carnival and the Beer gardens all kinds of cool drinks. To buy tickets go here to STUBHUB.com

Oktoberfest for this year 2015. 5 weekends Oct 2, 3, & 4,2015 Oct 9, 10, & 11, 2015 Oct 16, 17, & 18 2015 Oct 23, 24, & 2015 Oct 30, 31, & Nov 1, 2015.

500 vendors. October fest as well as domestic beer sponsors, California local radio and TV stations, Coca Cola, Budweiser, Heineken, Red bull, Radio & TV stations, local and nationwide, big insurance companies, Police & Fire man shows and all local Palmdale and Leona Valley businesses. We as well would need a list of volunteers to help out at our show during those 5 weekends. I have been working with one of the most experienced and well known promoters, to support us with generating business, bringing 1000's of Oktoberfest patrons to our property in Leona Valley this year. We will take efforts in bringing in Celebrities to our fest. Since this Oktoberfest is a fundraiser also, we would be working with some of non profits with a great cause, which still has to be determined.

Kids Zone. We have to start ordering all German food and alcoholic and soft drinks soon.

We would want 500+ vendors and at least 50 famous corporate sponsors for this year's OF. We would like everyone to glow in the dark and would welcome vendors, who sell all sort of glows i.t.d.

Smoking areas will be set & assigned at diversified locations and signs will be placed all over property for all patrons to find their ways around the 150 acres of property. Security guards will be patrolling at all times. Next to German food, like assorted bratwursts, grilled chicken and pork meat with German potatoes salad and especial German recipe prepared cole slaw, we will have international foods being sold from food trucks and from outdoor kitchens, prepared by catering companies and restaurants as well.

To get approved to take part in the show. Send in your contract with payment food vendors is $775 for the two days on Summer Fest and three Days on Oct Fest. Arts and craft vendors is $475 and Commercial vendors $650.If you want to be in front of show or in corner $550. We are in the process of contracting with our German Brass Band and Dance Troupe for this years Original German Oktoberfest 2015, who have been known to us from the German Clubs in the past.

HELP US "MAKE A DIFFERENT " TO DONATE TO THE FX3 NON PROFITSEND TO FOLLOWING PayPal.com ( Festivalpaypal@aol.com )

Charities: HOMELESS, SCHOOLS, DONATIONS MAKE A WISH FOUNDATION TO HEATH ILLNESS We are ambassador for Children's day and Earthday S'kool Music of Orange County, the Alzheimer's Association The Leukemia & Lymphoma Society, Boys and Girls Club, H.E.L.P FOUNDATION INC, and Dunking Frogs Foundation.

Sponsorship for Any of our event: Please contact us in writing.


Costs shows: Booth (10 x 10) - $475 Front/Commercial- $650 Corner - $575
Food Vendor - $875 Drinks - $650 Entrance - $775


Sponsorship Costs: Flat Screen digital video broad cast at event sponsors

Gold Membership - $5,500 This includes 30 x 30 booth. Logo on stage, all banners, fliers, ads, and website. Audio video adds on Flat screen

Silver Membership - $4,500 This includes 20 x 20 booth. Logo on main banner, and website. Audio video adds on Flat screen


Bronze Membership - $2,500 This includes 10 x 20 booth. Logo on banner, website and space in front

______________________________________________________________________


We are quickly receiving a large response on this event. Attendees are buyers/shoppers, tourists, locals, vacationers, college students, parents, and kids. Everyone will be off to the beach to visit and see this event so we expect high traffic.

About us: Fx3Events was established in 2000 and has been responsible for putting on craft shows, fashion shows, and coordinating with other groups for over 14 years. Our services include: fund raising, model searches, business marketing/generating leads, and new client research. We also provide booth set up for expos and festivals, as well as event supplies such as chairs, tables and canopies. Our focus is on events and marketing for 14 years running. It our way to help out the economy giving companies a place to market and sell as we bring work to the community and help out many groups as well.

TO DONATE TO THE FX3 NON PROFITSEND TO FOLLOWING PayPal.com ( Festivalpaypal@aol.com )

For marketing info call us or email us in writing.
Lead, expo staffing for you next events, or just buy leads anywhere in USA.

FX3EVENTS
P.O. Box 461035 West Hollywood, CA 90046

562-277-7174 / lahere4u@aol.com

We are ambassador for Children's day and Earthday
__________________________________________________________________________ If you have art work, homemade items, products from your company or anything you would like to showcase we want you! :) Message us for details on booth rentals.
Entrepreneurs or vendors to set up a booth to advertise their merchandise

Types of Vendors Desired: -home improvement -cosmetics
- health and fitness
- Unique Arts & Crafts
- Jewelry
- Natural fiber clothiers
- Environmental goods, services & information
- Peace Products -FOOD on only some events
The event we all been waiting for is back!!!

Hold your space now to get the beast location.

This event will be even hotter in 2015.
A SPECIAL THANKS TO SPONSORS FROM 2009 to 2015 SUPPORTING ALL SUMMER FEST.*********** FORD ****COKE**** DIRECT TV*** DIMOND RESORTS****

*******" Greyhound Express, Starbucks VIA and TOYOTA "********

To join us at any of our events


Call us 562-277-7174 go to myspace.com/fx3 events or twitter

________________________________________________________________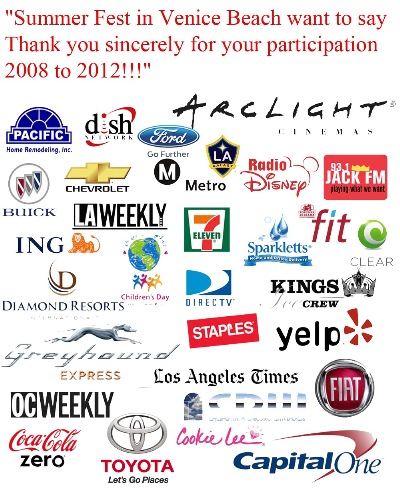 All American finest companies will be there this summer. There is so many companies to thank, just look at who has taken part over the years and there is so many people to thanks as well. La Fitness gave out over 1,000 30day passes for free to the first 1,000 guess at Summer Fest 2011. Save the date now and plan your day at the beach with your friends and family. W LIKE TO THANK OVER 360 BANDS AND PERFORMERS THATHAVE DONATED AND PERFORMED SUMMER FEST OVER 6 YEARS.

See you at the next show. This is our last 6 years shows:.
Summer Fest on Venice Beach
This was our past wonderfully 6 years and we are at a city you in future shows to help bring awareness to the homeless problem. Help our FX3 Non Profit so we can make a change. Donate on PayPal or just show up to any of our show and support our events which bring family friendly events to the public.


It's back so get ready for fun in the sun this summer. There will be food from all over world and the kids zone is in the sizzling in the summer sun at OCT FEST and SUMMER FEST. Come out and hep the homeless.

It's that time of year again and It's time for family and friends. So come out on these special days to shop, meet and greet old friends/family. Come out and support the community. To take part in the walk for Homeless just email us LAHere4u@aol.com

To get in. Call our office. We are accepting special arts and crafts vendors for our summer fair. Call us if you wish to take part in this events! Sponsors! Hand-outs!! Vendors desired: hand-made, home improvements, cosmetics, health & fitness, unique arts and crafts, jewelry, services and information, peace products, pre-wrapped items like candies, chips, crackers, wine-tasting, etc. are good. Anything summer-related!
to see the last 6 year shows go here: We are no longer at the Venice Beach as we are at a city near you.
Summer Fest on Venice Beach
So save your space now. Print out now and mail our your contract this week with check or deposit. Call our office first before you mail out your check. Weekly rates
Costs shows: Booth (10 x 10) - $475 Front/Commercial- $650
Corner - $575
Food Vendor - $875
Drinks - $650
Entrance - $775

Summer Fest brings out people from La and Orange County as well as people from all over the world. See our last 6 shows:

Summer Fest on Venice Beach .
See us at a city near you as we are at Venice Beach. Now you can enjoy Summer Fest on another level which headliners and more.

Just in......So READ ON..........Coming soon,,,,

Oct Fest just got better as we end the Halloween season on OCT 31, with Klymaxx and the Manattan's as they perform there WORLD TOUR at Paradise Ranch.

The Wonderland Spectacular Oct 31, 2015 and NOV 1, 2015 11am to 10pm. Late night spooky big screen movie in the stars. TO BUY TICKETS GO TO STUBHUB.COM


It the holiday's so what better time to give, see friends and family as
well as supporting someone who needs a holiday wish.

Breakfast with Santa, meet and great, free PHOTO and more. Food vendors and booths with the holiday spirit.

The magic of the holidays with kids sections hand made one of a kind
gifts, health and fitness, community service, and food to fill your spirit.

We hope to make this season the best ever for everyone with peace, joy and love




To take part in the walk just email us a Lahere4u@aol.com


To join us at any of our events email us.